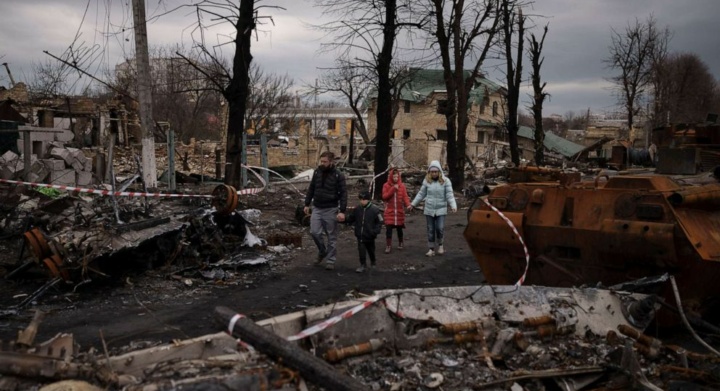 In recent weeks, Russia has begun pulling troops from Kyiv, the capital of Ukraine, and the surrounding areas as they focus their offensive to the East. It is apparent that Donbas, a region in Eastern Ukraine, as well as coastal areas of Ukraine are the next Russian targets.
War Crimes and Human Rights Violations
A number of possible war crimes and human rights violations have been documented following the Russian retreat of Bucha, a town just outside of Kyiv. Ominous images emerging out of Bucha include the bodies of slain civilians throughout the city streets, mass grave sites including women and children, as well as evidence of execution style killings and sexual assault.
One of the mass graves in Bucha. We saw civilians' bodies littered in the streets and dumped behind buildings. Most with gunshot wounds to the head. Some with their hands tied behind their backs. Evidence of war crimes that took place during the Russian occupation of the town. pic.twitter.com/opXA7QtTg9

— Simon Ostrovsky (@SimonOstrovsky) April 3, 2022
Responses From World Leaders
Russia has responded to these emerging images and corroborated stories by claiming the evidence against them is forged. Statements from Russian officials blame Western media outlets and Ukraine, calling the allegations of human rights violations "propaganda." Meanwhile, world leaders have called for the investigation of Russian war crimes. United States President Joe Biden called Russian President Vladimir Putin a war criminal and demanded accountability. Additionally, numerous European leaders have condemned the inhumanity coming out of Bucha.
I spoke with President @ZelenskyyUa about the atrocious murder of civilians in Bucha and elsewhere in Ukraine.

The EU is ready to send Joint Investigation Teams to document war crimes in coordination with the Ukrainian Prosecutor General.@Europol and @Eurojust will support.

— Ursula von der Leyen (@vonderleyen) April 4, 2022
The President of the European Union, Ursula von der Leyen, who has been vocal about supporting the possibility of Ukraine joining the EU, spoke on the phone with Ukrainian President Zelenskyy, promising to document the war crimes in Bucha. In a surprising move, the Prime Minister of the United Kingdom, Boris Johnson, visited Kyiv to meet with President Zelenskyy in a powerful show of support.
Today I met my friend President @ZelenskyyUa in Kyiv as a show of our unwavering support for the people of Ukraine.

We're setting out a new package of financial & military aid which is a testament of our commitment to his country's struggle against Russia's barbaric campaign. pic.twitter.com/KNY0Nm6NQ3

— Boris Johnson (@BorisJohnson) April 9, 2022
Zelenskyy has remained in Kyiv and has indicated he continues to be open to diplomatic peace talks with Russia. His requests for more military aid from the U.S. and EU continue to persist.
Action from the United Nations
In response, the United Nations held a successful vote to suspend Russia from the UN Human Rights Council. Suspensions are very rare, and it sends an impactful political message that the documented atrocities in Ukraine will not be ignored on the global stage.
Russia's rights of membership in the UN Human Rights Council has just been suspended. War criminals have no place in UN bodies aimed at protecting human rights. Grateful to all member states which supported the relevant UNGA resolution and chose the right side of history.

— Dmytro Kuleba (@DmytroKuleba) April 7, 2022
Brynn Larimer, Counter-Terrorism Research Fellow