Ahmad Shah Mohibi is the  President and Director of Research, Counter-Terrorism.  In this latter role, his contributions include field research and analyses of policy issues related to terrorism, violent extremism, human rights, national security, and peace building efforts.  Impressively, the government, intelligence communities and international development organizations have relied on his research for decision-making. Ahmad regularly presents at symposiums, conferences and discussion panels, and has authored numerous articles and reports for national and international newspapers and magazines.  He presented the 'Special Report on Child Terrorists and Violent Extremism in Afghanistan,' 'The Afghan Peace Talks: Feasible, or Futile?'  and 'How to Counter the Islamic State.' Ahmad frequently provides news analysis and commentary to media outlets, including the Washington Examiner, Voice of America, Aljazeera, Ariana News, Mitra News, The Diplomat Magazine, and TOLOnews.
Prior to that, Ahmad worked for over 12 years supporting the United States government in various roles regarding counter-terrorism, diplomatic negotiations, peace processes, international development, and national security, including agencies such as the Department of State, Bureau of International Narcotics and Law Enforcement Affairs (INL), to build the Justice Center in Parwan — a special tribunal where foreign and domestic terrorists were prosecuted in Afghanistan. Ahmad displayed his ongoing loyalty to democracy by faithfully assisting the troops in the war zones of Afghanistan to combat terrorism.  Ahmad is fluent in five languages and holds an M.A. in International Policy and Practice from George Washington University. He graduated with Honors from George Mason University, where he earned a B.A. degree in International Affairs and Political Science.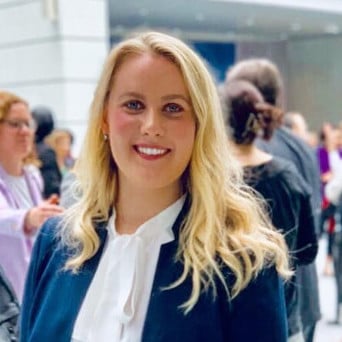 Kristyn Hartwyk
Director of Operations
Kristyn Hartwyk is an international professional who currently works at a leading international development institution in Washington, D.C., while simultaneously pursuing her Master's in International Development Studies at the George Washington University's Elliott School of International Affairs. Kristyn is heavily invested in conflict and development, education development and preventing violent extremism. Her qualitative and quantitative analytic skills are unparalleled and she has an undeniable gift for grant and proposal writing. Kristyn has written detailed, concise feasibility analyses, business canvas models and financial projects for Rise to Peace that has led to successful award competitions and grant money. She has a love of culture and diversity, and a strong passion for the well-being of humanity.
John Wilson
Director of Counter Terrorism Program
John Patrick Wilson serves as the Director of the Domestic Counter-Terrorism Program. John started with Rise to Peace as a Research Fellow, concentrating in counter-terrorism and counter-violent extremism. John's experience outside of Rise to Peace includes work as a law enforcement officer, as well as various roles in corporate risk management, security, and political research. John completed his first graduate degree in Homeland Security, where he concentrated in Counter-Terrorism Studies. His capstone project pertained to the Islamic State's intelligence apparatus, the Emni, and their capabilities to conduct intelligence tradecraft both at their peak and in their current state. Upon completion of his first graduate degree, he began his second graduate level degree in Strategic Intelligence & Analysis, which he is still pursuing.
Caitlyn Ryan
Research Fellow
Caitlyn Ryan received her Bachelor of Arts degree from Amherst College where she majored in Asian
Languages & Civilizations with a focus in Mandarin Chinese and U.S.-China relations. She is currently
pursuing a Master of Arts degree from the University of Massachusetts Lowell concentrating in
International Security and Counter-Terrorism studies. She is also working as a research assistant at
UMass, working with her professor of terrorism studies to build a database of organized criminal
networks around the world. As a Rise to Peace Research Fellow, she hopes to expand her knowledge of
domestic counter-terrorism trends and hopes to learn strategies aimed at undermining the
radicalization process.
Nikki Hinshaw
Research Fellow
Nikki Hinshaw is an undergraduate student studying Human Communication and Political
Science at Barrett, the Honors College at Arizona State University. Her interests lie within
bolstering the capacity of civil society and media organizations to help promote good
governance, counter extremist narratives, and address global social issues. Upon returning from
an intern abroad trip to Ghana where she conducted research on civil society development in
West Africa, Hinshaw became heavily involved in the international affairs community in
Arizona. She has interned for several internationally-focused organizations, including Global
Ties Arizona, the Phoenix Committee on Foreign Relations, and the U.S. Department of State.
Since her freshman year, Hinshaw has also worked as the Communications Coordinator for ASU
Project Humanities, which aims to elevate civil dialogue around humanities and social justice
topics. As a Counter-Terrorism Research Fellow with Rise to Peace, she hopes to explore how
people are radicalized online and dive into the influence of disinformation and propaganda on the
spread of extremist narratives.
Tim O'Shea
Manager, Active Intelligence Database
Tim O'Shea is a student at George Mason University studying Government and International Politics, as well as Economics and Data Analysis. In his role at Rise to Peace, Tim designed, built, and now oversees the Active Intelligence Database, managing the synthesis of thousands of news reports into legible and usable data on global terrorism and extremism. Besides his work at Rise To Peace, Tim has served as an immigration law clerk specializing in political asylum and data analytics, as well as in research internships at the Institute for Immigration Research and the Center for Political-Military Analysis at the Hudson Institute.
Sara Huzar
Head of Week in Terrorism
Sara Huzar is a member of George Mason University's Honors College Class of 2019 and is one of its nineteen members to receive its prestigious University Scholarship. She has held numerous leadership positions in on-campus organizations and spent the spring of 2017 living in Kyiv, Ukraine while interning at the US Embassy in the city. She has completed a funded research project on the discursive construction of Afghan women in congressional debates and presented it at the National Conference on Undergraduate Research 2018.
Sara designed and produces Rise to Peace's Week in Terror report; a weekly summary of terrorist attacks throughout the world and created the Active Intelligence Map (AIM). Her research interests focus on nationalism and national memory at the intersection of international security and ethnic conflict.
Kate Kleinle
Editor in Chief
Ben Malouf
Research Analyst - MENA
Meghan Rahill
RESEARCH FELLOW
Sakhi Naimzada
Research Fellow - Afghanistan
Danielle Boden
Active Intelligence Intern
Zahar Hryniv
Research Intern
Cameron Cassar
Active Intelligence Intern
Keelin Wolfe
Active Intelligence Intern
Mike Salous
Business Budget Analyst
Billy Baker
Active Intelligence Intern
Kyle Myatt
Research Fellow
Kyle Myatt is a graduate student at Arizona State University. He is pursuing a Master of Arts in
Global Security, focusing on how technology is changing both war and conflict. Kyle graduated
from Campbell University in 2013 with a BA in Criminal Justice Administration. Along with
being enrolled at ASU, Kyle works in the criminal justice field providing forensic support
services to law enforcement agencies located in Raleigh, NC. His research interests include:
counter-terrorism, counter-insurgency, transnational security, and intelligence analysis. Working
with Rise to Peace, Kyle hopes to gain knowledge and experience he can apply towards a career
in the intelligence field.
Alex Serebrina
Counter-Terrorism Research - MENA
Alex Serebrina is currently a senior at San Francisco State University studying Political Science. She has a strong interest in terrorism and counterterrorism, specifically Salafi-Jihadism. For example, she taught her own course about Salafi-Jihadism at San Francisco State University in during the Fall 2018 semester. Alex has strong computer skills and wants to combine them with her strong knowledge of terrorism in order to stop attacks.
Kelly W. joins the Rise to Peace team as graduate, having earned her Master's Degree in Human Rights and Democratisation. Prior, she earned her Bachelor's Degree from McGill University. Through her studies, she developed a specific academic and professional interest in the domain of global security, peace and conflict and counterterrorism. Kelly is looking forward to working with the Rise to Peace team, to contribute to ongoing projects and expanding her knowledge in this field.
JulieAnn Sickell
Active Intelligence Intern
JulieAnn Sickell is currently a Junior at George Mason University majoring in Global Affairs with a concentration in Global Governance and minor in Chinese. She is a part of Mason's Global Politics Fellowship, Honors College, and Admissions team. JulieAnn's interests include security policy, U.S.-China relations, and humanitarian work. At Rise to Peace, Julie contributes to the maintenance of the Active Intelligence Database and writes blog posts.
Matthew Tyris
Counter Terrorism Researcher
Matthew Tyris graduated from York College of Pennsylvania in 2017 with a degree in International Relations. Throughout his college career, Mathew found an interest in terrorism and cyberspace. This led to him to conduct analysis on topics such as terrorism recruitment strategies and a study on international law in cyberspace. He involved in York Colleges National Model United Nations Team in New York City.
After graduating from York College of Pennsylvania Mathew decided to work for City Year AmeriCorps in Philadelphia. At City Year I assisted at-risk youth in subjects such as math, literacy, and Social Emotional Learning for over 1700 hours. I found the greatest sense of satisfaction when I was just talking with them, answering their questions and allowing them to speak their mind and expand their thoughts. This is why Rise to Peace's mission to educate youth resonated with me so deeply, and was one of the many reasons I applied for the position.
Mathew works as a Counter Terrorism Researcher with Rise to Peace, focusing on Digital Extremism.The position will allow Mathew to research two topics of interest, terrorism, and cyberspace. "During my time here I plan to showcase the issue of digital extremism and share insight pertaining to propaganda and recruitment strategies through cyberspace", Said Mathew.
Habiba Ahmed
Active Intelligence Intern
Habiba is an Honors College junior at George Mason University majoring in Government and minoring in Intelligence Analysis. Her research interests include international security, terrorism, U.S nuclear doctrine, and trade relations. Before joining Rise to Peace, she was an intern with First Ask, a nonprofit focused on electing more women into office. She is also a member of the nationally ranked George Mason policy debate team as well as a consultant at the George Mason Communication Center. At R2P, she hopes to further explore counter-terrorism strategies with a focus on the Middle East.
Alexandra Sharp
Head of Communications and Social Media, Counter-Terrorism Researcher
Alexandra Sharp is a junior at the University of Missouri — Columbia, double majoring in International Studies and Journalism. She is pursuing Peace Studies and Magazine Writing concentrations. At MU, Alexandra serves as President of Mizzou Amnesty International, is a contributing writer for Vox Magazine, and works as a Diversity Peer Educator. Alexandra is passionate about human rights and conflict resolution, especially regarding issues concerning women and children. At Rise to Peace, Alexandra will serve as Head of Communications and Social Media as well as a Researcher Intern. In these roles, she hopes to gain valuable experience in counterterrorism work.
Amy Hetherington
Counter-Terrorism Research Intern – Women Extremism Department
Amy is working on her MA thesis in Peace and Conflict in the School of Politics and International Relations at University College Dublin. Her course work focuses on religious extremism and political violence in the Middle East and North Africa. Amy's thesis work examines the correlates for support/sympathy for Islamic terrorism in Muslim majority countries. Amy completed her undergraduate degree at Queen's University, Canada in Religious Studies and World Languages with an International certificate. At Rise to Peace, Amy is a counter-terrorism research intern within the department for Women Extremism.
Shailene Pimentel
Research Fellow
Shailene Pimentel is a 2019 graduate from the Middlebury Institute of International Studies in Monterey. She received her Master's Degree in Nonproliferation and Terrorism Studies with a specialization in Financial Crime Management. During her time at the Middlebury Institute, Shailene served as a Graduate Researcher, in which she participated in the creation of the Special Operations Research Database (SORD). The database focused on analyzing strategic issues in Special Operation Forces-related places concerning policy decision making. Moreover, Shailene also partook in a seminar on Countering Violent Extremism (CVE) where she took on the role of analyzing current CVE initiatives in the Philippines. This research included examining indicators of success, areas of improvement, and applicability to the CVE initiatives in other countries. Previously, she has obtained a Bachelor's Degree from California State Monterey Bay in Social and Behavioral Science with a minor in Pre-Law. As an Undergraduate Researcher, Shailene developed a capstone where she illustrated the theoretical framework of her research on the First Amendment as it relates to mass surveillance.
Anagha Sreevals
Communications Analyst
Anagha Sreevals is an undergraduate student at George Mason University pursuing a major in Global Affairs, with a concentration in either Global Governance or International Development. She also is learning Arabic and has strong regional interests in the Middle-Eastern and South-Asian politics. Her specific research interests revolve around refugees in the Middle East and have interests in psychology, immigration studies, and global health. At Rise to Peace, Anagha provides digital communications analysis and engage with internal and external partners and audience.
Simone Matassa
Research Fellow
Simone Matassa is currently studying at the Technological University of Dublin in Ireland where she conducts research on the Western media's representation of Islamic state terrorism. This research aims to show the significance of sensationalising certain terrorist attacks in the media and the effects of such on the general public and for terrorist organizations. Prior to this, she completed her Undergraduate Bachelor of Arts Degree in Sociology at The National University of Ireland where she carried out research on religious extremism and the social/psychological motivations of terrorism.
As a Counter-Terrorism Research Fellow with Rise to Peace, Simone will be focusing on women in extremism in order to highlight how women become involved in terrorism and to create a comparison between the processes of radicalization for women versus men. The issues surrounding women in extremism are particularly under-researched and she hopes through her work at Rise to Peace to help shed light on this complex dynamic and create something that could help educate people on the factors that may lead a person to become more susceptible to joining a terrorist organization.
Nick Webb recently graduated from George Mason University with a degree in Global Affairs, a minor in Middle Eastern Studies, and a concentration in Global Governance.  At Rise to Peace, he is a Research Fellow, where he is focused on the Peace Talks in Afghanistan.  He focuses on the weekly critical moments of these talks to secure a legitimate government and peace in the country.  Nick updates the Rise to Peace Facebook page with articles with up to date information on the peace talks.  He hopes that though his writings there can be a better understanding of the region, as well as a way forward to counter terrorism and to create peace.  Nick has also served as an intern for Congressman Gerry Connolly in Washington D.C, where he worked closely with the Foreign Affairs liaison.  He has also studied at Sciences Po in Reims, France and obtained a certificate in International Relations and Security.