Ahmad Shah Mohibi is the founder of Rise to Peace and also serves as the director of Counter-Terrorism programs. In this role, he conducts research and analyzes policy issues related to terrorism, violent extremism, international security, and peace peacebuilding efforts to help inform the policy practitioners, analysts, the private sector, international and non-governmental organizations. Prior to that, he served as a Justice Advisor to the Department of State, Bureau of International Narcotics and Law Enforcement Affairs (INL) in Afghanistan, where he helped coordinate, implement, and monitor interconnected projects, including the $10 million initiative to build the Justice Center in Parwan. Prior to the State Department, Ahmad assisted the United States Military in various capacities to help provide comprehensive strategic planning and project management in support of the NATO-led Resolute Support mission to train, advise and assist the Afghan security forces and institutions. He holds a Master in International Policy and Practice from George Washington University and a BA in Government and International Politics from George Mason University.
Regularly presents at symposiums, conferences and discussion panels, and has authored numerous articles and reports for national and international newspapers and magazines. Frequently provides news analysis and commentary to media outlets, including the Washington Examiner, Voice of America, Aljazeera, Ariana News, The Diplomat Magazine, and TOLOnews.
Michael R. Sherwin
Senior Advisor
Michael R. Sherwin, an Assistant United States Attorney with the U. S. Department of Justice, has extensive experience in national security investigations and counterterrorism cases. Prior to becoming a federal prosecutor, Michael was an intelligence officer in the U.S. Navy, where he served throughout the Middle East in support of Operation Enduring Freedom (Afghanistan) and Operation Iraqi Freedom.
Suleman Ozeren
Director of Counter-Terrorism (MENA)
Dr. Suleyman Ozeren is the Director of Counter-Terrorism for Middle East and North Africa (MENA) region. Dr. Ozeren is an adjunct faculty and a research scholar at George Mason University. He formerly served as the President of the Global Policy and Strategy Institute and the Director of the International Center for Terrorism and Transnational Crime (UTSAM) in Turkey. He also served as a faculty member at different universities. Dr. Ozeren received his M.S. degree in Criminal Justice and a Ph.D. degree in Information Science from the University of North Texas.
His research interests include terrorism & counterterrorism, countering violent extremism (CVE), conflict resolution, the Kurdish issue, and forced migration. In his research, he examined four terrorist organizations: ISIS, Al Qaeda, Hezbollah, and the Kurdish Worker's Party (PKK). He also conducted research in Europe, focusing on diaspora radicalization. Part of his research included interviewing convicted terrorists and disintegrated and de-radicalized individuals.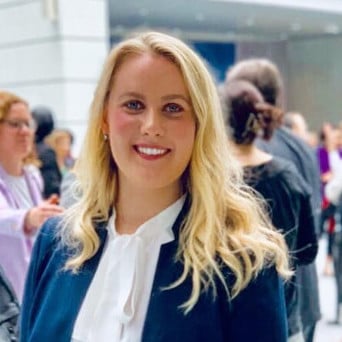 Kristyn Hartwyk is an international professional who currently works at a leading international development institution in Washington, D.C., while simultaneously pursuing her Master's in International Development Studies at the George Washington University's Elliott School of International Affairs. Kristyn is heavily invested in conflict and development, education development and preventing violent extremism. Her qualitative and quantitative analytic skills are unparalleled and she has an undeniable gift for grant and proposal writing. Kristyn has written detailed, concise feasibility analyses, business canvas models and financial projects for Rise to Peace that has led to successful award competitions and grant money. She has a love of culture and diversity, and a strong passion for the well-being of humanity.
Gerard Johansen
Research Fellow, Counter-Terrorism
Gerard Johansen is a security professional whose career has spanned over a decade of experience in law enforcement, security and intelligence.  Gerard has received a Bachelor of Science in Justice and Law Administration where he focused his studies on Terrorism, Information Security and Corporate Risk Management.   Over the next decade, Gerard worked for law enforcement agencies at the state and federal level engaging in cyber crime investigations.  After completing a Master's of Science in Information Assurance from Norwich University, Gerard transitioned into the private sector focusing on cyber security, incident response, cyber threat intelligence and cyber counter intelligence.  In addition, Gerard has written two books and several articles on various aspects of cyber security. 
Gerard is currently pursuing graduate level studies in Monitoring, Surveillance and Intelligence at Utica College where he will be focusing on terrorism and intelligence operations. 
Caitlyn Ryan
Research Fellow
Caitlyn Ryan received her Bachelor of Arts degree from Amherst College where she majored in Asian
Languages & Civilizations with a focus in Mandarin Chinese and U.S.-China relations. She is currently
pursuing a Master of Arts degree from the University of Massachusetts Lowell concentrating in
International Security and Counter-Terrorism studies. She is also working as a research assistant at
UMass, working with her professor of terrorism studies to build a database of organized criminal
networks around the world. As a Rise to Peace Research Fellow, she hopes to expand her knowledge of
domestic counter-terrorism trends and hopes to learn strategies aimed at undermining the
radicalization process.
Tim O'Shea
Advisor, Rise to Peace
Tim O'Shea is a student at Georgetown University Law Center, and serves as a an advisor to Rise To Peace's database team. Tim previously served as R2P's Database & Intelligence Manager, when he designed, built, and oversaw the Active Intelligence Database (AID) and Undercovered Attacks Database (UAD). He graduated summa cum laude from George Mason University's Schar School of Policy and Government with a BA in Government and International Politics
Simone Matassa
Research Fellow
Simone Matassa is currently studying at the Technological University of Dublin in Ireland where she conducts research on the Western media's representation of Islamic state terrorism. This research aims to show the significance of sensationalising certain terrorist attacks in the media and the effects of such on the general public and for terrorist organizations. Prior to this, she completed her Undergraduate Bachelor of Arts Degree in Sociology at The National University of Ireland where she carried out research on religious extremism and the social/psychological motivations of terrorism.
As a Counter-Terrorism Research Fellow with Rise to Peace, Simone will be focusing on women in extremism in order to highlight how women become involved in terrorism and to create a comparison between the processes of radicalization for women versus men. The issues surrounding women in extremism are particularly under-researched and she hopes through her work at Rise to Peace to help shed light on this complex dynamic and create something that could help educate people on the factors that may lead a person to become more susceptible to joining a terrorist organization.
Kate Kleinle
Advisor, Rise to Peace
Emma Clark
Counterterrorism Research Fellow
Emma Clark is a recent graduate of the University of Glasgow's Global Security MSc program. Her work focuses primarily on explicating the ethical and moral narratives jihadist groups use in justifying their use of specific tactics, namely, human weapons. In 2018, she graduated with an MA (Hons) from the University of Edinburgh, reading International Relations. At Rise to Peace, Emma's role is centred within the 'Women and Extremism' program, contributing to a much-needed, and under researched, topic in Terrorism Studies that is plagued by assumptions regarding women and their role in terrorist organisations. Through engagement with this program, Emma's goal is to better understand the motivations women have for joining these groups, and to challenge strongly-held assumptions regarding these motivations. She believes it necessary to better engage, and understand, the narratives held and forwarded by these women to assist in de-radicalisation and the development of counter-narratives.
Nick Webb recently graduated from George Mason University with a degree in Global Affairs, a minor in Middle Eastern Studies, and a concentration in Global Governance.  At Rise to Peace, he is a Research Fellow, where he is focused on the Peace Talks in Afghanistan.  He focuses on the weekly critical moments of these talks to secure a legitimate government and peace in the country.  Nick updates the Rise to Peace Facebook page with articles with up to date information on the peace talks.  He hopes that though his writings there can be a better understanding of the region, as well as a way forward to counter terrorism and to create peace.  Nick has also served as an intern for Congressman Gerry Connolly in Washington D.C, where he worked closely with the Foreign Affairs liaison.  He has also studied at Sciences Po in Reims, France and obtained a certificate in International Relations and Security.
Meghan Rahill
RESEARCH FELLOW
Danielle Boden
Active Intelligence Intern
Kyle Myatt
Research Fellow
Kyle Myatt is a graduate student at Arizona State University. He is pursuing a Master of Arts in
Global Security, focusing on how technology is changing both war and conflict. Kyle graduated
from Campbell University in 2013 with a BA in Criminal Justice Administration. Along with
being enrolled at ASU, Kyle works in the criminal justice field providing forensic support
services to law enforcement agencies located in Raleigh, NC. His research interests include:
counter-terrorism, counter-insurgency, transnational security, and intelligence analysis. Working
with Rise to Peace, Kyle hopes to gain knowledge and experience he can apply towards a career
in the intelligence field.
Alex Serebrina
Counter-Terrorism Research - MENA
Alex Serebrina is currently a senior at San Francisco State University studying Political Science. She has a strong interest in terrorism and counterterrorism, specifically Salafi-Jihadism. For example, she taught her own course about Salafi-Jihadism at San Francisco State University in during the Fall 2018 semester. Alex has strong computer skills and wants to combine them with her strong knowledge of terrorism in order to stop attacks.
Matthew Tyris
Counter Terrorism Researcher
Matthew Tyris graduated from York College of Pennsylvania in 2017 with a degree in International Relations. Throughout his college career, Mathew found an interest in terrorism and cyberspace. This led to him to conduct analysis on topics such as terrorism recruitment strategies and a study on international law in cyberspace. He involved in York Colleges National Model United Nations Team in New York City.
After graduating from York College of Pennsylvania Mathew decided to work for City Year AmeriCorps in Philadelphia. At City Year I assisted at-risk youth in subjects such as math, literacy, and Social Emotional Learning for over 1700 hours. I found the greatest sense of satisfaction when I was just talking with them, answering their questions and allowing them to speak their mind and expand their thoughts. This is why Rise to Peace's mission to educate youth resonated with me so deeply, and was one of the many reasons I applied for the position.
Mathew works as a Counter Terrorism Researcher with Rise to Peace, focusing on Digital Extremism.The position will allow Mathew to research two topics of interest, terrorism, and cyberspace. "During my time here I plan to showcase the issue of digital extremism and share insight pertaining to propaganda and recruitment strategies through cyberspace", Said Mathew.
Rejeanne Lacroix
Editor in Chief
Réjeanne Lacroix is a Canadian independent researcher focusing on international security and the post-Soviet space. She earned her BA in Political Science at Laurentian University and an MA in International Security Studies at the University of Leicester. Her analysis on a wide range of topics was previously featured at the NATO Association of Canada.
Amanda Garry
Counterterrorism Research Fellow
Amanda Garry received her Master of Science in Counterterrorism degree from Nichols College. She has previous experience in private security, fraud, and counterterrorism research. As a Rise to Peace Counterterrorism Research Fellow, she hopes to expand her knowledge of counterterrorism issues within the United States and work toward mitigating terrorism as a whole. Her interests within the field include recruitment, radicalization, and interviewing those who have abandoned their extremist ideologies. Amanda hopes to acquire a future role tasked with travel and exploration as she strives to counter terrorism on a global scale.
Nakeshia Diop
Counter-Terrorism Research Intern
Nakeshia Diop is a junior majoring in Political Science at Yale University with a concentration in International Relations. She is also studying Chinese and French, and have spent much of her summer times abroad trying to learn about different cultures so as to better understand world issues. She has a passion for writing and am currently managing the social media accounts for my study abroad program. At her university, she is involved in the Yale-China Association and volunteer as an ESL teacher. She is enthusiastic about working with Rise to Peace to help inform others about terrorism-related issues.
Shailene Pimentel
Research Fellow
Shailene Pimentel is a 2019 graduate from the Middlebury Institute of International Studies in Monterey. She received her Master's Degree in Nonproliferation and Terrorism Studies with a specialization in Financial Crime Management. During her time at the Middlebury Institute, Shailene served as a Graduate Researcher, in which she participated in the creation of the Special Operations Research Database (SORD). The database focused on analyzing strategic issues in Special Operation Forces-related places concerning policy decision making. Moreover, Shailene also partook in a seminar on Countering Violent Extremism (CVE) where she took on the role of analyzing current CVE initiatives in the Philippines. This research included examining indicators of success, areas of improvement, and applicability to the CVE initiatives in other countries. Previously, she has obtained a Bachelor's Degree from California State Monterey Bay in Social and Behavioral Science with a minor in Pre-Law. As an Undergraduate Researcher, Shailene developed a capstone where she illustrated the theoretical framework of her research on the First Amendment as it relates to mass surveillance.
Ben Malouf
Research Analyst - MENA