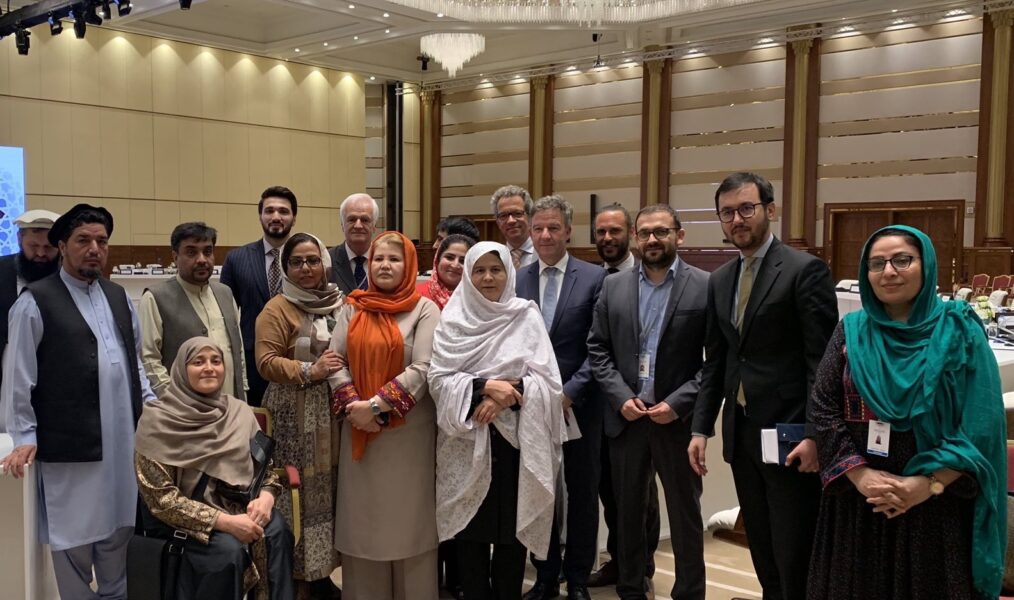 Hopes For Cease-fire After The Doha Intra-Afghan Dialogue
An unprecedented meeting between the Taliban, Afghan officials, and delegates from various political parties and civil society last week has raised hopes for peace, but it must now be followed up by a cease-fire to pave the way to lasting peace in the country.
In the Qatari capital, Doha, a meeting co-hosted by German and Qatari officials brought together diverse factions interested in achieving lasting Afghan peace. Sixteen Taliban and 60 Afghan representatives comprising delegates from political parties, government officials, and civil society organizations engaged in discussions that led to a potentially positive arrangement.
The Doha peace talks were unlike many other conferences. The Taliban agreed to reduce their reliance on violent attacks by avoiding various public spaces. Many Afghans vulnerable to terrorism and living under severe violence have newfound hope.
It was a positive milestone for Afghans. The Taliban leadership dined with female representatives, including one of their leading critics, Fawzia Kofi, a former MP of the Wolesi Jirga or lower house of the Afghan Parliament. The Taliban indicated a shift in their perspective toward women by saying they would protect their rights within an Islamic framework.
Women, in particular, have been the victims of ignorance and extremism throughout the dark chapters of Afghan history. The international community's contribution to building a democratic framework in Afghanistan resulted in the simple ability for girls to go to school.
This is a significant step in bringing peace and prosperity to the country. Women now work freely in the government and private sector. They represent an important portion of society and have been a symbol of change.
Given the Taliban's harsh policy toward women and youth, this represents huge progress. Afghan journalist Harun Najafizada reminisced about his childhood when he and his brother Lotfullah Najifizada hid behind their mother. But now Lotfullah openly argued with Taliban representatives in Doha.
The presence and participation of youth at the Doha conference offered another noteworthy step. It was unique to see those under the age of 30 who were raised under the specter of war and feared violence by the Taliban, now sitting across from them. They ate, argued, exchanged ideas, and consequently asked for the violence to end.
Among the participants, Khalid Noor — a recent graduate of George Mason University and alum of Royal Military Academy Sandhurst — hopes for a peaceful Afghan future. He expressed satisfaction with the discussions and said he considers the Doha conference an excellent example of a way that both Taliban and Afghan representatives could "clearly raise their thoughts patiently."
His father, Atta Mohammad Noor, had fought the Taliban as a commander of Jamiat-e Islami in the 1990s and as the longtime former governor of northern Balkh Province. He sees the Doha talks as a breakthrough. "This was unlike many other peace talks," he said. The Doha framework was conducive to frank considerations that "both sides felt comfortable to share and they listened to each other."
"I really think that this was a good meeting as the two sides exchanged ideas," he said, adding that it is "imperative to hold such talks in the future."
A remarkable conclusion came after strong criticism and arguments. Both sides agreed to reduce violence by withholding attacks on religious centers, schools, hospitals, educational centers, bazaars, water dams, and workplaces. But the understanding now needs to translate into a tangible cease-fire across Afghanistan.
Continued peace talks and the recent nonbinding agreement with the Taliban are indicative of a few points. First, the Taliban are willing to accept some sort of cease-fire because they claim to feel remorse for killing civilians who are fellow Afghans. On the other hand, they simply may not have an alternative strategy.
Secondly, conferences in Doha, Moscow, Pakistan, and Uzbekistan denote the group's desire to build a new reputation. Let's not forget that the Taliban's Islamic Emirate of the 1990s was toppled by the U.S. government for harboring Al-Qaeda terrorists.
Read the full article on the website of Radio Free Europe/Radio Liberty
---
Ahmad Mohibi, a writer and activist is the founder of Rise to Peace. Follow him on Twitter at @ahmadsmohibi.
Ahmad Mohibi is the Founder of Rise to Peace